Every year, thousands of hikers and backpackers head into the back country and wilderness to enjoy the beauty of nature. If you are one of those happy campers you know the need for a small, lightweight, reliable stove that heats warm nutritious delicious meals time after time. One of the best ways of cooking in the outdoors is with an alcohol burner stove because of their simple, no moving part design and readily available fuel.
So simple, in fact, that there are D.I.Y versions, but if you want a durable, well made, quality burner, with a design that stands the test of time, you cannot choose better than the Esbit Brass. These awesome little stoves have been tried and true, world favorites for decades.
With all its qualities the Esbit Brass Alcohol Burner Camping Stove with Variable Temperature Control is the perfect companion for any outdoor adventure or expedition, whether you are making a short day trip, a long weekend or a week of back country trekking. Kayakers, mountain bikers, as well as any others who want to enjoy nature, will find this little stove a welcome addition to their pack.
Review
Packaging
This alcohol burner will ship in a box just a little bigger than the product dimensions, which are 6.8 x 6 x 2 inches. The product weighs 3.2 oz and when shipped will weigh 4 oz. It will come already put together, including a leak proof rubber seal.
Durability and Design
The Esbit stove is made under German quality assurance systems in high quality, corrosive free brass that can take a few knocks without showing any signs of damage, not that dropping it down the side of a mountain is a recommended test for durability. The actual stove has no moving parts and there are no burners to break or wear out so they are not as susceptible to damage as some other types of cookers.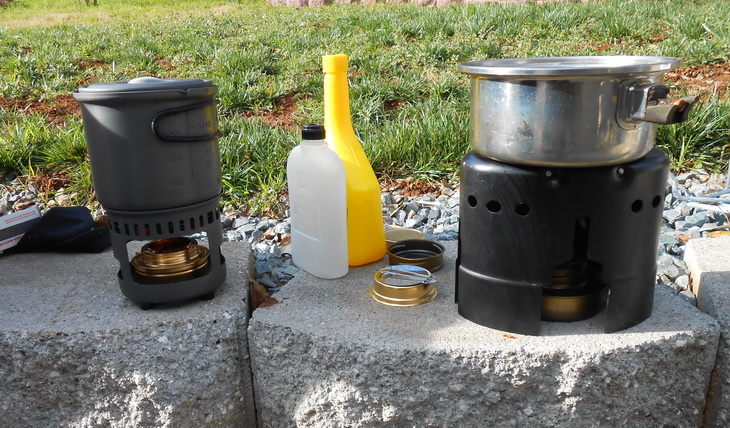 It is robust enough to cram into a small space in your pack and takes up minimal space. This durability ensures that you won't find yourself with a broken cooker when you arrive at your remote campsite after 8 hours hiking.
Flame Regulator
The Esbit Alcohol Stove has a flame regulator so you can choose to cook with fully open heat, partly open for simmering or close it to extinguish the flame. The regulator has a unique and practical fold away handle that allows you to adjust the flame without getting your fingers close to the hot burner. Esbit was the first to introduce this design feature.
It essentially will not fail to work so long as you have fuel and it can be placed in a wind sheltered spot. The secure, sealed lid means you can close any unused fuel in the stove rather than decant it back into a fiddle bottle or worse, have to waste.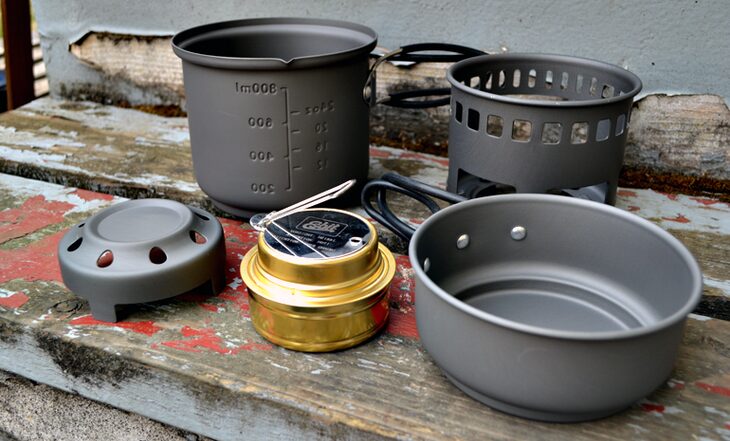 Fuel for alcohol stoves is relatively easy to find and inexpensive to buy at many universal retailers. It is cheaper than most fuels for alternative stoves. The stove has a low profile so there is less likelihood of accidental tipping over while cooking, although caution should always be taken with any naked flame.
Fuel
The required fuel is relatively lightweight and you only need to pack the amount you need for the estimated meals so no unnecessary weight. Fuel is always on hand; just fill the stove and light it. You don't need to scramble around looking for dry firewood when it has been raining all day.
Ultralight hikers can buy fuel in larger quantities and decant into suitable smaller bottles to pack. These are advantageous for carrying smaller quantities, but should be unbreakable, leak proof, and the better ones, have pouring measurements and flip-top caps for ease of use.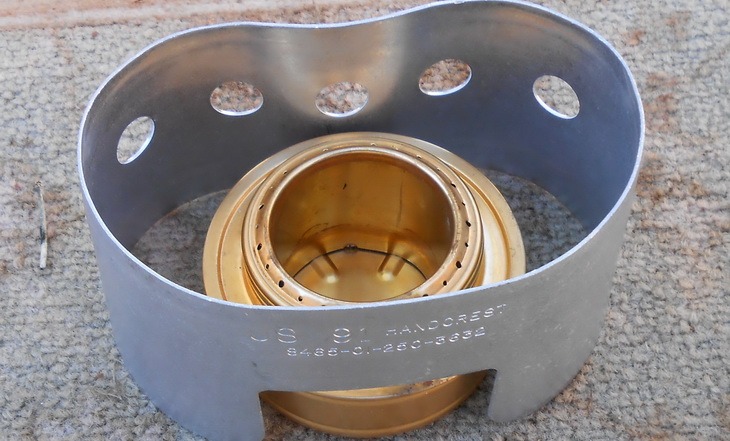 You can use the Esbit Alcohol Stove with alternative purpose made equipment, for instance the Esbit Pot Stand. The latter is designed for easy placement and removal of the stove, as well as for easy adjustment of the simmer regulator when in use.
Manufacturer Recommendations
For simple, delicious meals, it is best to plan for one pot cooking that is water based. Each meal should take about 20-30 minutes to cook and use about 2/3ounce of fuel with 2 cups of water for two normal servings or one large serving.
Cook meals to a basic recipe with 2 cups of water. Always cover with a lid to be more efficient and bring to the boil. When boiling, stir in the chosen ingredients and bring to boil again with lid. Either turn down to simmer and let the fuel run out. Leave the meal to sit covered for another 5 – 10 minutes.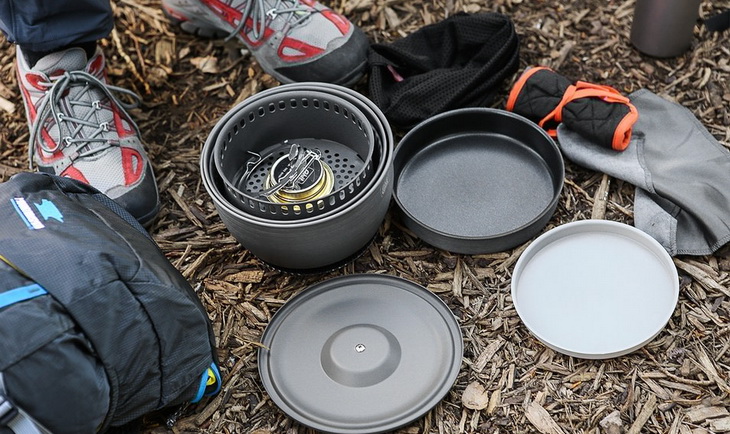 Use easily transportable foods like rice, small shape pasta, noodles, whole or rolled grains, dehydrated vegetables and fruit, dried meat, fish, and eggs (if you can carry safely).  If weight is not so much an issue you can take fresh vegetables, cans of beans, fish, etc. Use first, those ingredients that may deteriorate or break.
All stoves can be dangerous, so a list of precautions:
Always consider the weather conditions before lighting
Do not cook on any inflammable surface
Remove all flammable materials close by
Have an extinguisher of some description on hand
Never leave a fire unattended
Value for the Money
This product is generally beloved by those who have used it and they state that this product is definitely worth the money. Moderately priced, you are getting a product that works, and is leak proof. While there are some more pricey, and less pricey, this alcohol burner is worth the price you pay.
As a basic description, the Esbit Alcohol Stove looks like a small metal can with a series of holes around the rim. At first glance it may be easy to think such a simple looking stove should be easy to copy but Esbit stoves have a few extra important features that continue to make it a market leader.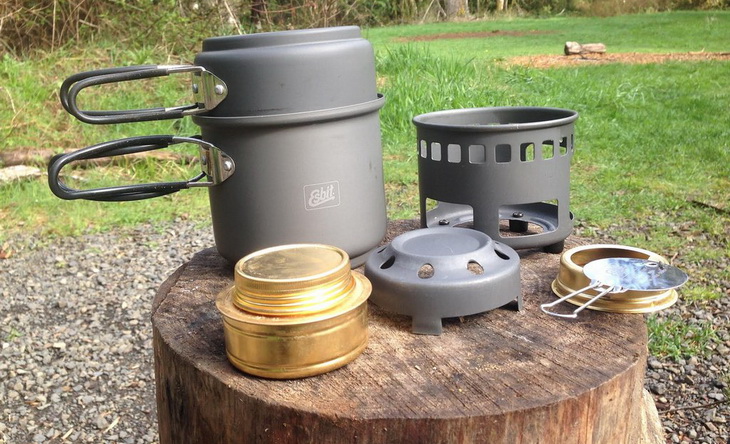 On closer inspection, you will see an inner cylinder wall which is one the reasons the Esbit Alcohol Stove is so efficient and reliable. When filled with suitable fuel, some of the fuel fills that compartment between inner and outer walls. When the fuel is lit, evaporation develops pressure gradients that ensure the flames burn forcefully through those specifically sized and placed perimeter holes for maximum heat and efficiency.
PROS:
Made from quality, corrosive free brass
Covered with a secure brass lid fitted with a durable rubber seal
Compact dimensions -2 x 6 x 6.75 inches
Lightweight – 0.2 lb
Has a low profile setup
Flame regulator for simmering and shut off
Flame regulator has a folding handle
Fuel can be carried in the stove
Manufactured to German design standards
CONS:
Small, easy to lose
Can develop cracks on the outside over time that will leak
Does not match all Esbit stove kits
Have to remove the Heat Control portion to adjust
The flame is orange instead of blue
There are various reports that the stove will operate efficiently over many altitudes from sea level up to 12,000 feet, although the higher altitudes may mean colder temperatures do make the stove more difficult to light. Again, however, reviewers have reported using the stove at below freezing levels and it is worth noting that Scandinavian military forces use alcohol stoves all year round when temperatures drop to below -30 F.