Choosing the perfect backpacking tent can be a daunting task and a complex decision that is influenced by your lifestyle choices and how, where, and when, you usually camp or hike. There are three big things that you should keep in mind when it comes to your pack weight –  your usual pack things, your sleeping bag and most importantly, your shelter. Investing in a high quality, lightweight tent is a really smart choice and a cost effective way to reducing the total weight you carry on your hike.
In this article you'll be able to read a review of a super light tent – Hilleberg Anjan 2-Person Tent. This is, by far, the most popular 3-season tent that offers a lightweight shelter designed for relative temperature conditions during fall, spring and summer. Although it can withstand light snow and downpours it is not intended to be exposed to heavy snow and harsh storms.
The Hilleber's Anjan tent has a bright yellow interior, which prevents seeing rain outside the tent. Because of that it gives a more homey indoor feeling and transmits more light inside, giving the interior a brighter look. This additionally adds to space and makes it a more comfortable place to be in in case a storm hits you on your hiking route. Hopefully, our review can help you in finding the right tent to fit you and your partner's needs.
Review
Packaging
This tent comes in a box that is 6.1 x 7.8 x 20.2 inches and will weigh 4.55 pounds. With your tent poles being made of aluminum the packaging is durable and will withstand shipping to your home. Inside, you will find all of the items needed to put your tent up, as well as directions on how to do so.
Durability and Design
Anjan tent is pretty luxurious if you compare it to other lightweight shelters and tents and has an adjustable clothesline which makes it perfect if you decide to go for car camping. Backpacking tents, such as this one, have space efficient designs with low headroom, narrow foot spaces and steeply sloped walls. Newer designs are intended to have an open interior without adding unnecessary weight.
Tents that weigh at least a couple of pounds less are surely less durable, so that is why this tent is one of the most durable tents on the market. The Anjan tent comes with metal rings, metal hardware and strong plastic. Its floor fabric is unquestionably more durable than the fly fabric. Many ultralight tents use the same material for the fly and the floor, but not this one.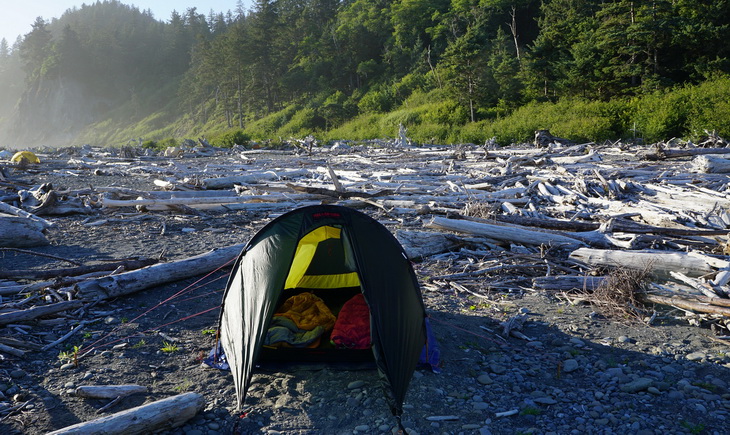 This tent is built to last and has a waterproof Kerlon 1000 for the rain fly. The Kerlon 1000 is a durable silicone ripstop nylon that is imposingly strong. Its warp break strength is 22 lbs which is the strongest fabric that is used on any tent that can be found on the market.
Size
If you're taller than 6 feet it might happen that your feet or sleeping bag will touch the end of the tent so keep that in mind because condensation can get your sleeping bag or feet wet and this is something you don't want to have to deal with after a long day of camping.
This is the most common problem with tents that have the slope toward the back design. But, in this case, the entrance that is 14 square feet, makes this tent one of the largest among the tents with single doors.
Weight
Although Hillberg's Anjan tent is not the lightest tent when comparing with similar tents (it weighs 65 ounces), if you're looking for a storm-worthy tent than weight savings doesn't seem big of a deal here. The weight here is well worth it.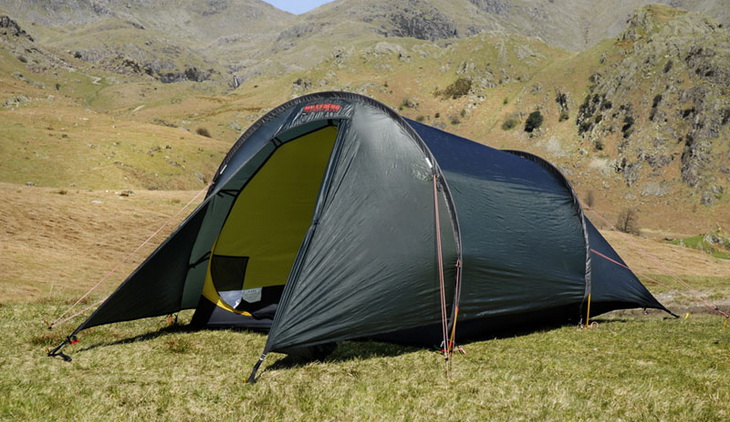 If you want the lightest tent out on the market better get ready to sacrifice a little bit of weather durability and resistance.
Ventilation
This tent has impressive ventilation, because of the pattern they have used in the tents, that create gaps so that you get a full amount of air flow coming through. This also makes it easier to put together in windy weather!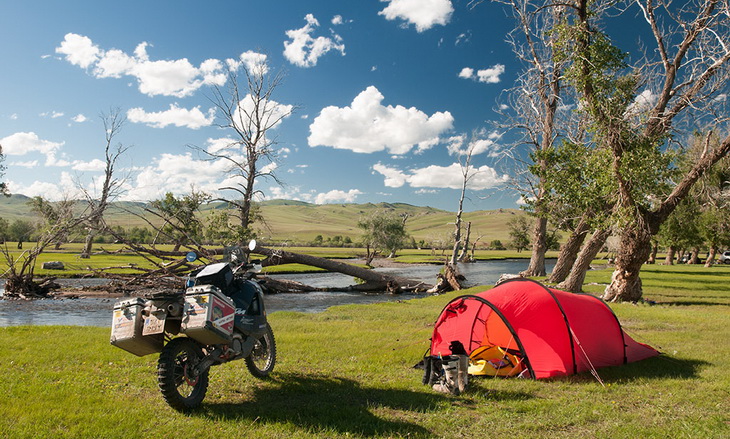 The mesh door and mesh vent, keep the air flowing as well, and you can always roll up the part of the wall of the tent to let more air in, if necessary. This is why this tent is especially perfect for warmer weather, because you will always have a well ventilated tent for the season.
Weatherproofness
Anjan tent has superb protection from all the elements. If you hike in places where the weather is pretty wet and comes with many storms than this tent is the perfect solution for you. It comes with strengthened zippers and the floor is higher than most other tents which mean that the tent is weather resistant to any splashback and spindrift. The inner part of the tent is made out of a strong nylon fabric that will prevent any sand or snow penetration.
The vestibule zippers also have a waterproof cover which means that despite numerous serious rains, you won't find that water entered the vestibule. You can see small droplets but it's nothing that is not normal. You can even see some videos of possible setup configurations for camping in high winds online.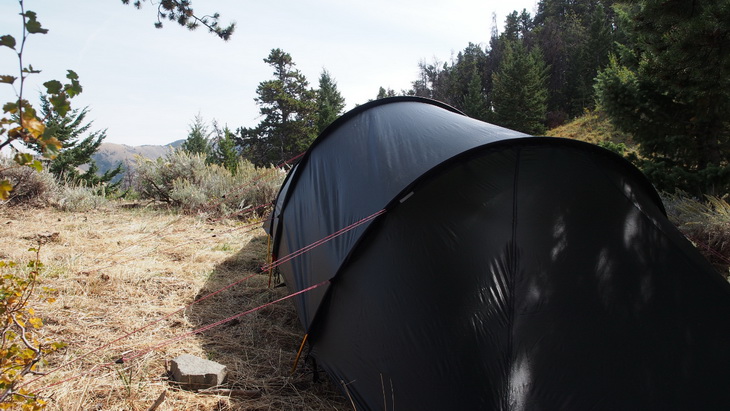 This tent is not ideal for high altitude terrains but is great for longer and shorter trips in protected terrain. In windy, dusty areas the Anjan tent will protect you from the sand blowing considering the fact that it comes with a high bathtub floor and nylon interior walls.
Ease of Assembly and Use
This tent comes with instructions, but is generally very simple to set up. You put the poles into the ground and secure them. If done properly, your tent will stand erect, and the poles are bent into a horseshoe type shape. Using this tent is easy, as well!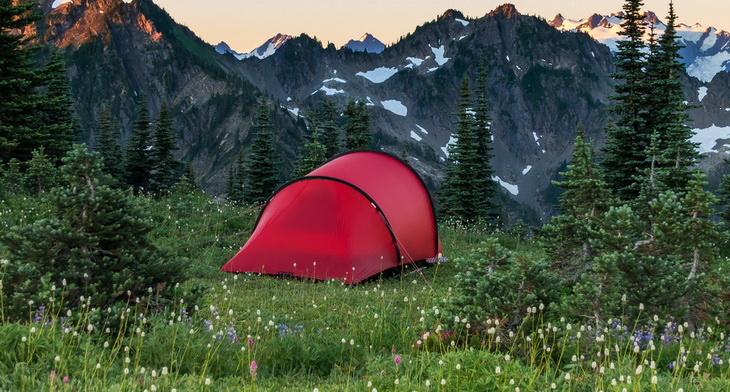 There is a mesh door in the front for easy access, and you can climb right in, without issues, and zip your door up. Mesh doors are not the best for winter, as they do not keep the heat inside.
Value for the Money
While this is a hugely popular tent on the market right now, there are surely some that cost less and can give you nearly the same function and features. What makes this tent worth the huge cost is that it is made for 3 seasons, it's so lightweight that you will not have to worry about carrying it along, and it is made with such strong fabric and materials, that you will not be disappointed when those high winds roll through.
When it comes to grading, most campers and hikers gave this tent 10 out of 10 points because it is weather resistant as it offers great protection from all the weather elements. The poles of the tent are "not that bad" considering the fact that there are some that are stiffer and lighter than these.
If you ask professional hikers they'll probably all recommend this tent as there are even some who climbed the most difficult mountains and said that this tent is so warm they haven't even used their sleeping bags. Their general conclusion is that this three-season tent has many features that can be found on four-season tents.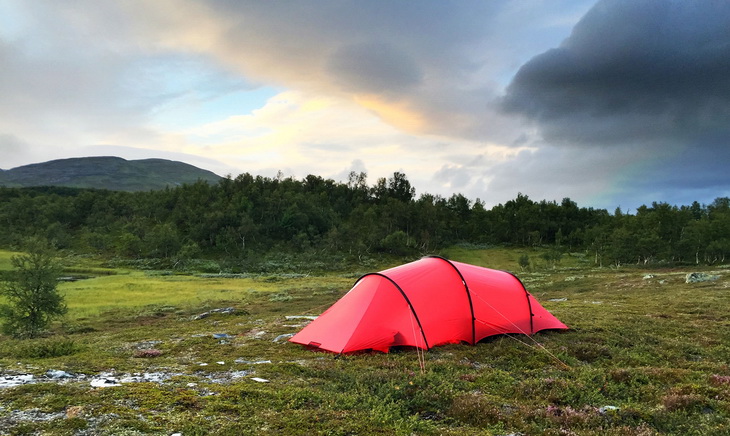 Hilleberg did another great thing when designing this tent and that is when they included a pole sleeve for repairs and an extra pole in case something happens and you need to do some repairs, this will save you some money because you won't have to buy them separately.
We reviewed pros and cons of the Anjan 2-person tent that you can read below:
PROS
Spacious
Durable
Weather resistant
High quality materials
Three season tent
Two doors
A partial shelter inside the tent
CONS
65 ounces is quite heavy if you plan to carry it most of the time
Poor quality stakes
Pricey compared to other tents of other brands
This tent should definitely earn some awards due to its strong performance and durability in extreme weather. Although you can find less expensive tents, we believe that the price of a little over $600 is a really good value for this quality. If someone would ask us to recommend a tent that can be used for all seasons, it would definitely be this one.
It is perfect for those who love hiking alone or in a pair and do different activities like bike touring, car camping, hiking, or kayaking, this tent will surely cover all your needs through at least three seasons.