It is more important than ever that sometimes we leave modern "western life" behind and head out into the outdoors to enjoy our world. This increases our understanding of nature and the planet we live on. In order to enjoy hiking and backpacking trips into the back country, it is important to plan well and use adequate equipment for safety and comfort.
It might not be about feather beds and cozy blankets, but we do need to be able to stay warm and get adequate rest. Therefore, in this article, we will talk about the Klymit Static V2 Sleeping Pad and what makes it worthy of a review.
Having a sleeping pad for your backpacking adventure is a necessity as you will not get a proper night's rest if you do not have something comfortable to sleep on. If you sleep on the cold, harsh ground, you could be laying on uncomfortable rocks and limbs that prevent you from resting correctly. It will be worth the extra expense to be well rested when you pack up the next day for the next leg of your journey.
Review
Packaging
The packaging for this sleeping pad is very durable, to prevent puncture. The packed weight is 16.33 ounces and your sleeping pad will come already packed down for space saving at a size of 3 x 8 inches. In the box you will not only find the sleeping pad itself, but a stuff sack so you can carry it on your backpacking adventure, a patch kit in case you need to make quick repairs, and a Lifetime Warranty.
Weight and Size
The Static V2 is super lightweight, while still offering superb comfort and warmth. It only weighs 16.03 Oz – essentially one pound on your back. It comes in one size at 72″ x 23″ x 2.5″. While it doesn't come in a longer size, it is wider than most other comparable pads that are often only 20 inches wide.
Comfort
When it comes to comfort, the Static V2 is constructed with V-shaped baffles down the center of the pad that distribute weight between the air tubes so that they don't compress so easily when a heavier body part is lying on them. This is especially important for those of you who sleep on our side with weight through the hip area but also benefits front and back positions.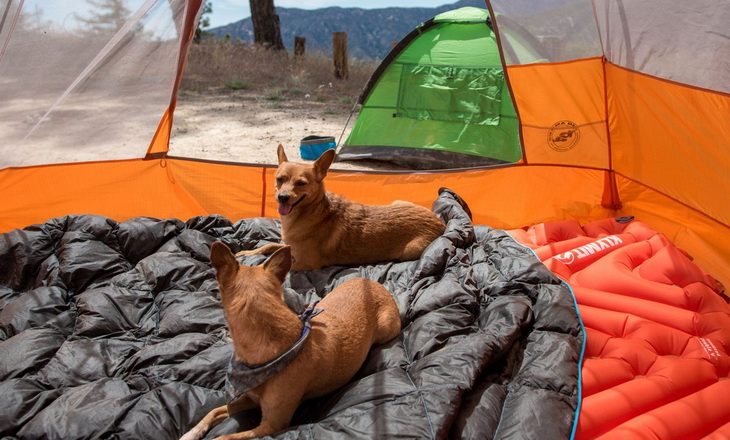 The baffles are made to form deep welds so that there is less likelihood of areas flattening under body weight causing cold spots. As well as the "V" shape, there are also dynamic side "rails", that help to keep you centered and secure on the pad. They also help retain the air, central, for warmth where it matters close to your body.
Durability and Design
One of the developments Klymit has made for the Static V2, is the use of specialized fabrics. By choosing 30D Ripstop polyester material on the top surface, they have reduced the weight of the pad yet retained quality and comfort. The bottom surface 75D Ripstop material is slightly heavier denier to resist tearing or punctures as well as being abrasion resistant.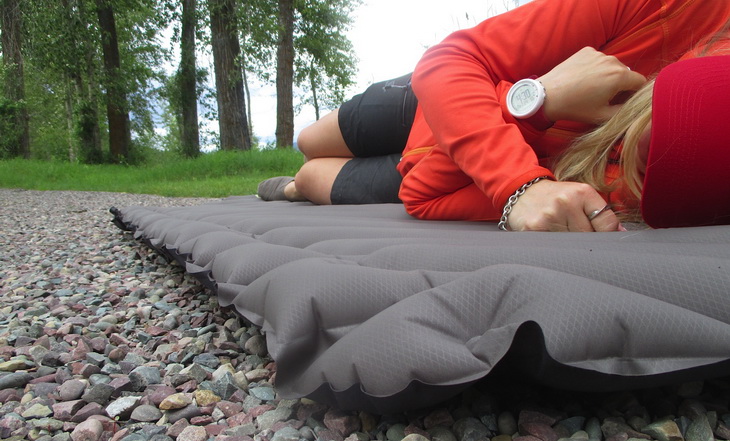 The laminate used for the fabric is impregnated with antimicrobial treatment to resist fungal and bacterial growth. Microbes could make the inner smell and damage the fabric fiber over time. This is more of a problem when you use your own breath for inflation because of the added moisture content of your breath. Each Static V2 is supplied with a repair kit that includes patches, that can be stored in an integrated pocket of the pad's storage sack so they are always there if needed.
Insulation
The Static V2 has an insulation value of 1.3, which is on the low side. However, as some users pointed out in some customer reports, not one of them found it inadequate for insulation.
Perhaps it also helped because the unique V baffles and deep channels act as air pockets, which warm up under your sleeping bag, adding further insulation, which is not measured during R-rating. If you need more insulation, say, during colder months, you can find a great sleeping pad that will work in colder climates and seasons.
Ease of Assembly and Use
The Klymit twist-pull valve allows for very easy, simple inflation within as little as 10 breaths, depending on your lung capacity of course. The mechanism is stable enough to prevent opening by accident, but opens wide for rapid deflation when you need it.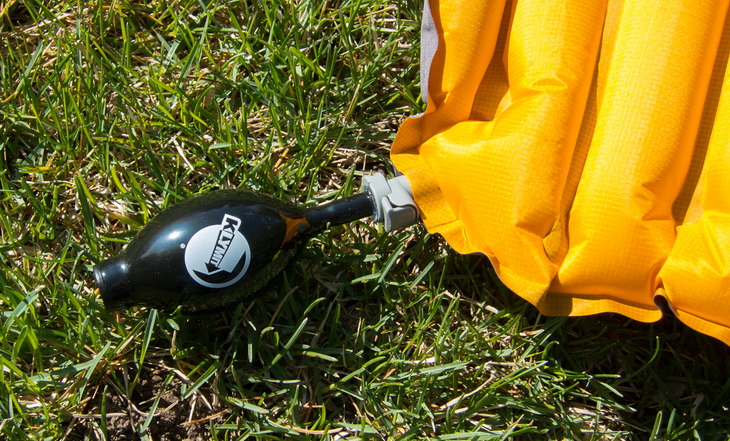 Some sleeping pads have larger air valves so you can quickly deflate your sleeping pad in seconds, and then roll it up and store it in the stuff sack so you can continue on your backpacking fun! The stuff sack can even attach to the outside of your backpack, so you will not have to worry about storing it.
Manufacturer Recommendations
Wash your Static V2 regularly in warm water and dry thoroughly. Always close the valve before washing. To remove extra soiling, mix 1 tablespoon of baking soda with 2 cups of warm water, and sponge with a cloth. Rinse and dry. Never put your pad in a washing machine or use any detergent to clean it.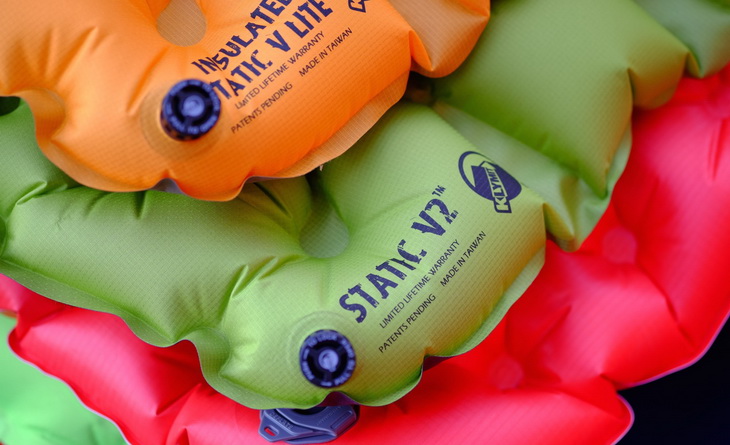 Recommended storage is simple – clean, dry, rolled up in the storage sack provided. There are recommended methods to roll up your pad so that it compresses into the stuff sack provided. Open the valve and push most of the air out. Fold the pad in quarters lengthwise and roll up from the bottom. Klymit also provides video links if you need more information for this.
Value for the Money and Warranty
You really can not go wrong with the value for the money. There are surely many more expensive sleeping pads on the market that will offer the same features and comfort that this sleeping pad has. Surely, this is a bargain, as many people of varying sizes say this sleeping pad is like sleeping on a cloud!
The value is also especially great because this product has been updated from a previous version, offering a lighter product overall and lighter fabrics are used. Should you not be satisfied with your Static V2 pad, there is a full money back guarantee within 21 days of purchase provided it is returned in 'like new' condition.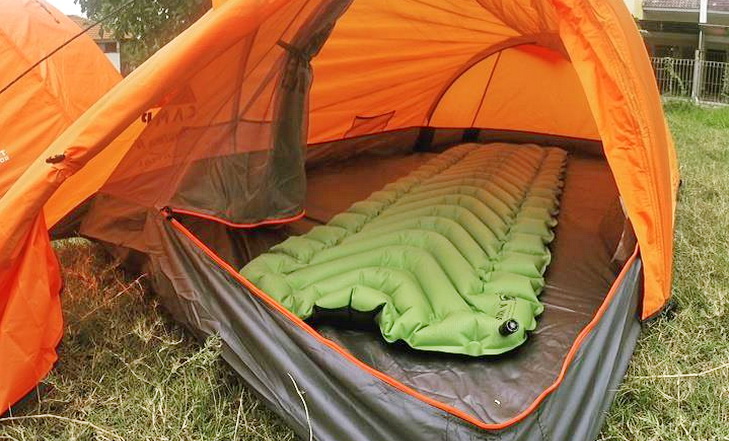 All Klymit products are guaranteed to be high-quality manufactured and material defect free. Their camping pads, including the Static V2, are guaranteed for the life of the pad, excluding normal wear and tear, unauthorized changes, abuse or neglect. If a product is discontinued, or a replacement unavailable, a comparable product would be substituted. For the Klymit warranty to apply, the pad has to be purchased from an authorized Klymit reseller or dealer.
The Static V2 is designed to be exceptionally comfortable, extremely lightweight, and pack into a very small space. Despite its size and weight, it offers many features that you would normally only find in much heavier pads. This means you will be warm and cozy even in some very cold conditions.
Various customer reviews are very positive about the Klymit Static V2 sleeping pad. The majority of people report that it exceeds their expectations concerning comfort and warmth.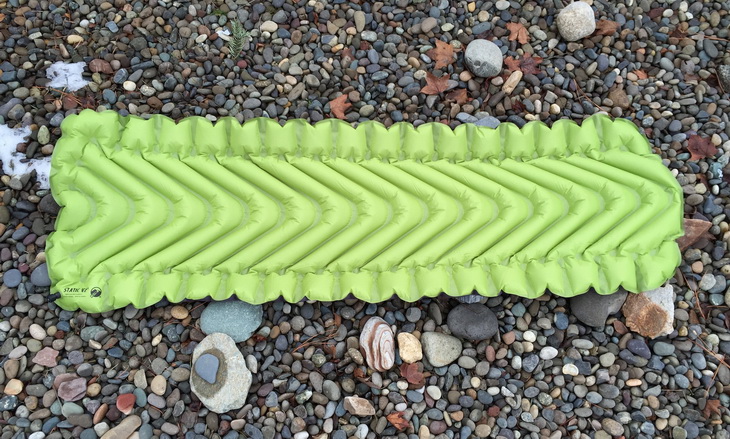 Despite it only coming in one size, more than a few hikers over 6 feet tall report it is long enough for their sleeping requirements. Another user, vouched for its durability, despite their dog deciding to try it out for size and attempting to scratch and twist it on rough ground before bedding down. It did not puncture at all.
Pros:
Very light in weight
Very compact
Durable
Good insulation
High comfort level
Attractive design
Low cost against comparable pads
Extra width
Cons:
Low R-value
Could puncture (but easily repaired)
One size
You could choose to use this model for sleeping on the ground, on various surfaces, or it could also be fitted inside a suitable hammock for extra comfort and warmth. You could also fit it inside your sleeping bag providing the ground is dry.