Nature has a lot to offer to the one who is looking for an adventure and real hikers believe that after hiking, their first love is camping. Regular holidays that you spend on the beach just won't cut it for some people. If you are one of those, then having a tent is a perfect choice.
Tents are used for a wide variety of camping trips and holidays. We are mentioning this as you need to be aware that there are many benefits to owning a tent. One of them being the ability to stay outdoors as driving late, to get home, is not the best solution.
It is hard to resist the urges that make you explore the entire beautiful wilderness, and to do so, you will need more than just one day, thus owning a tent is a smart choice. Therefore, we suggest that you take a look at our review of the Nemo Blaze 2P  tent, and see if this model is suitable for your needs.
Nemo might have been lost in that famous animated movie, but when it comes to camping and hiking items, you will find it really useful. As you might have guessed, this tent is not only for hikers, but for campers as well. Not a single weather condition will stop you from fulfilling your plans.
To achieve this, it is required that you have some high-quality equipment. One of the most important parts of this type of equipment is the tent. There might be different options, but they provide a not so good and a temporary shelter, or are too expensive.
A tent is not just in the middle of the list, but it is the best solution by far. Saving some extra cash, is going to contribute to your account that you use to boost your hiking experience. Having more money is never a bad thing, but buying something uber useful, is even better.
Getting to your favorite hiking spot can take ages, so it is a smart idea to spend more time there. Renting a motel room is an unnecessary cost and it can be further away from your hiking trail. This takes it away from the real cause, which is, spending some time in the nature. Also, changing your habitat can have an overall positive effect on your health and well being.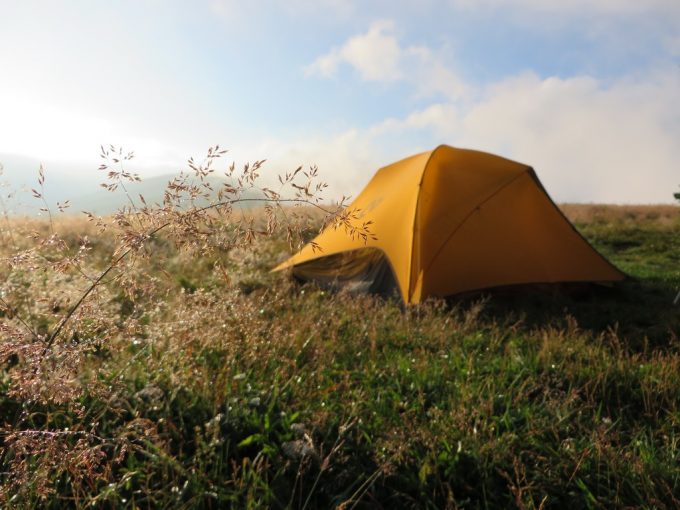 Camping or hiking are two awesome activities that are favorites of many. You can get them both sorted out by buying a tent. That might sound as a lot of work, but getting the latest craze in the world of tents is certainly something that is really worthwhile.
Review
Packaging
Nemo Blaze 2P tent comes with all the needed components such as the mesh vent rain fly, pole attachments and vestibules attached. It weights less than 6 pounds, so it is a portable camping tent for couples of backpackers. It also features two entry doors for extra convenience of sleeping in the wilderness.
The color of the tent is Elite Yellow. The dimensions of the product are 5 x 10 x 22 inches. The tent is meant for maximum of two persons. Having the third person will only limit your space of wiggling. The dual-stage drawstring stuff sack has been provided as well to pack the tent in it whenever you have to move from point A to point B.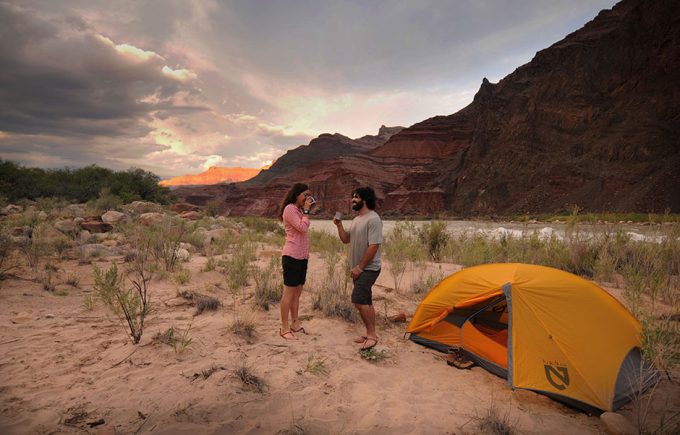 The stakes, repair kit and the guy-out cord has been provided in your package. What you have to procure are probably the sleeping pad and the sleeping bag. But with the thickness of 1200mm fly fabric, we doubt that it will be a need to have the sleeping pad.
Design & Durability
Wasting your precious time on setting up a tent will be the thing of the past. You must have had very bad experiences with this procedure. The Blaze 2P model is here so you can forget about all those awful days when you had to deal with overly complicated tents. This way, you will save more and you are going to do stuff that really matter.
If you are in the hurry, then it will be so easy to set up wherever you want. More activities can be organized as you will not have to worry if some animal had destroyed your tent. Easy is an adjective that describes this tent perfectly. All of this is enabled due to the unique  pole configuration.
Nemo Blaze will come in handy for each and every hiker as it is not built for any specific type of hiking. This makes for both leisure and professional hikers. Versatility is a great feature for a tent and Nemo Blaze 2P can be used for various activities.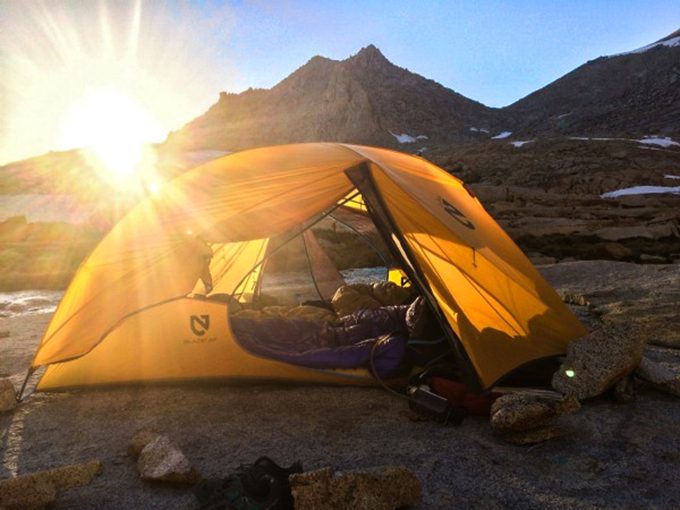 We know that you were thinking about going camping with your friends or family. Blaze is a perfect choice for trailing as you can carry it easily. As mentioned earlier you can set it up quite easily. This means that it is suitable for all terrains thus hikers who prefer variety are going to love the tent.
Do not worry about wind or rain as the implementation of the latest trends will help you keep your tent stable. If you are a fan of more risky and daring types of hiking then you will certainly appreciate this feature. There is no chance that your tent will be knocked down. It also stops tears as it stands firmly on the ground.
Getting wet is something that you will have to go through if you buy just a regular tent. This will destroy your hiking trip and might even endanger your health.  Being waterproof is one of the most important features as you will be safe from every bad weather condition.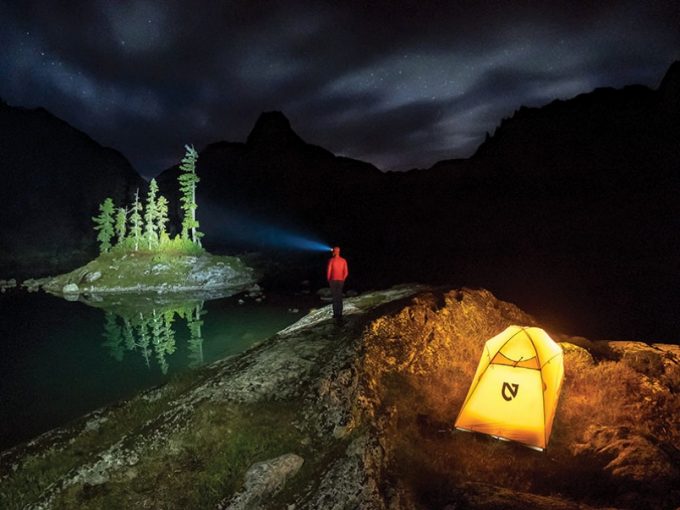 The fabric feels natural and it is made out of the most durable material out there. It feels great to the touch so you will not get that cheap feeling that you get with some tents.  7D Sil/PU Nylon sounds like a complicated name but it is a top notch material for a top notch tent. It is only 1200 mm thick, so you know that you will be getting an ultra light tent.
Size
You might be a fan of a small group hiking, or perhaps this kind of hiking is quite boring, so you want to hang around with bigger crowds. This is the reason why you need to consider your option regarding your tent sleeping capacity. Everybody has a different body shape, or might be claustrophobic, and you need to buy the tent that will satisfy the needs of every individual.
As mentioned earlier, the number of the people who will be staying with you makes a huge difference. You cannot allow yourself to leave someone feeling like a sardine, due to your misinterpretation. It is advised that you purchase a tent as a group or a couple.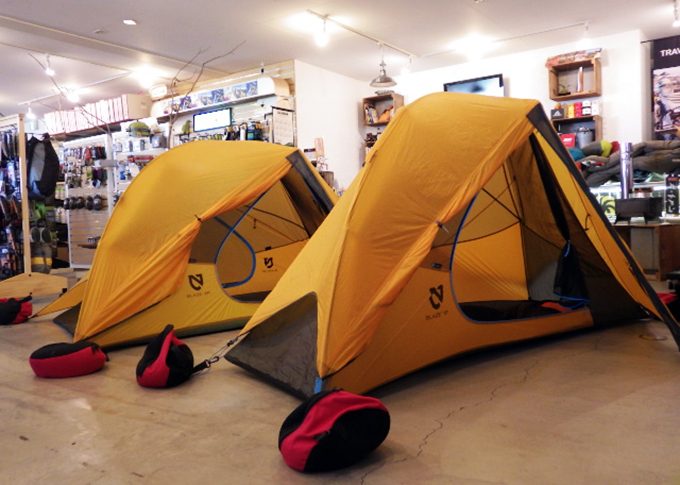 Size is important, as you do not want to carry a large and heavy tent around. It is harder to set up, so you will spend more time on getting your tent ready. The best option is to balance the aforementioned factors, and to be certain that everyone is accommodated properly. Equilibrium is the key to the best hiking and camping experience.
Ease of Use
When it comes to easy access, we are guessing that  must have seen at least one scene in the movie when everyone tries to go inside a tent at the same time. Be sure that this is not going to happen to you as Nemo Blaze 2P has two entrances so all of your hiking companions will be able to get in easily.
This makes a big difference when there are more than two people. Carrying your items and equipment will be easier too, as you are not going to have bring everything trough a single entrance. Nemo Blaze 2 P is an innovative tent that will save you a lot of cash and you will be getting a great product for a bargain.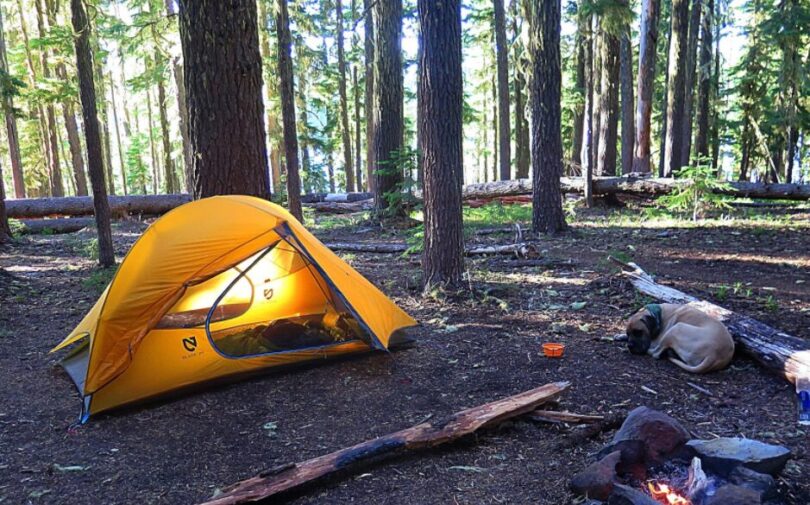 There are some additional features that contribute to the overall quality of the tent. These are Divvya sack dual-stage drawstring stuff sack, guy-out cord, repair kit, stakes. As you can clearly see there are a lot of additional features that will help you put more stuff in your tent. If something goes wrong, then you can repair it easily. This makes Nemo Blaze 2P even more suited for the bad weather condition.
Tents were considered to be used only for camping but we can clearly see that is not the case with Nemo Blaze 2P. Nemo Blaze 2 P is more than your average tent as you know that you will be getting the most out of this awesome tent. Your only job is to pack yourself and find the most interesting and beautiful location for your hiking trip.
Portability
Carrying too much is never a good way to start your hiking trip. A tent Is one of the most important assets that you can have. Purchasing a tent that is not suitable for your way of hiking is a bad idea. If you like to move fast, without any unnecessary burden then Nemo Blaze is a perfect solution for you.
It is ultra lightweight so you will not have any problem with your backs. This means that you are going to be relaxed and ready to enjoy in your favorite activity. If you are looking for a cheap and effective way to improve your hiking experience, then you will be willing to learn more about the Nemo Blaze 2P tent.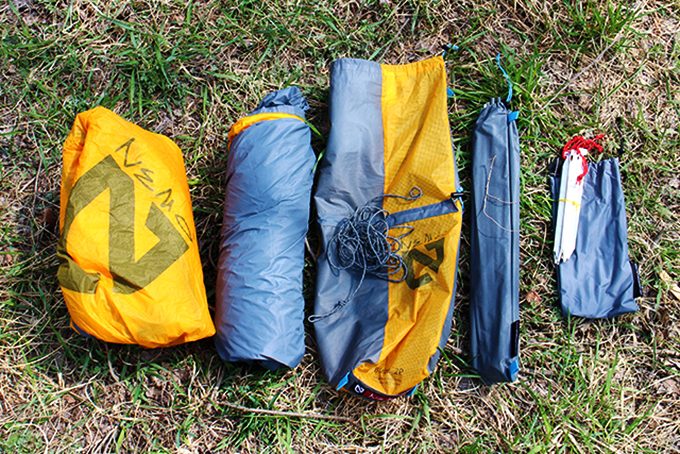 A real adventurer does not need a hotel or a motel room, but the perfect tent. However, they are not easy to find. Therefore, we have given our best to find the tent that covers all the necessary features that you will want for your hiking.
Not every tent that you can find online, or in the shop, has the features that come with this great tent. Getting ready for the latest hiking trip requires a lot of planning, so it would be much easier for you to know that you will have a great temporary roof under your head.
Seasonality
You need to take into account the time that you will be spending on your hiking trip. This is very important, as different seasons require different tents. If you are the one who loves to go hiking at every possible time, then the best option for you is to get a tent that can be used during four seasons.
Using a tent during snow and rain requires the use of tougher materials, so you have to be aware of the fact that the tent will weigh more. Four season tents are meant for hikers who are professionally involved with this activity.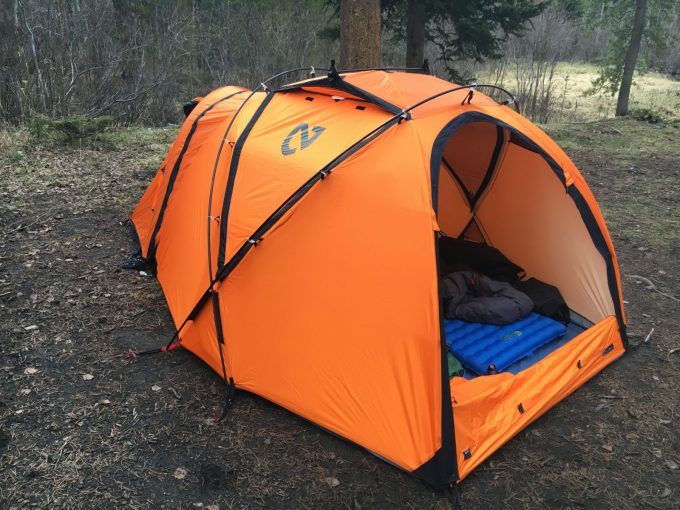 If you are not keen on going hiking during the winter, then a three season tent will do just fine for you. As you might have guessed, these types of tents are lighter, but they are made of less rugged materials. This makes them perfect for hikers who move around a lot. You will get less poles with these tents, so you will not have to carry as much.
Casual hikers will have most of benefits by purchasing a three season tent. While the avid hiker should go for the all seasons tent.
Value for the money and guarantee
It is not fun to go camping or hiking alone. Except being not that much fun, it is also very unsafe as you can get lost or hurt. Buying a separate tent for each member of your family or suggesting this option to your friends is very costly. Exceeding your carefully calculated cost is a hassle that can lead to postponing or even canceling of your hiking trip.
This is not a rational way of thinking as this is your way of spending a holiday or a day off. Saving more money will contribute to your overall experience as you will be more relaxed. Nemo Blaze 2P is an affordable and high quality option that is well suited for your hobby and your wallet.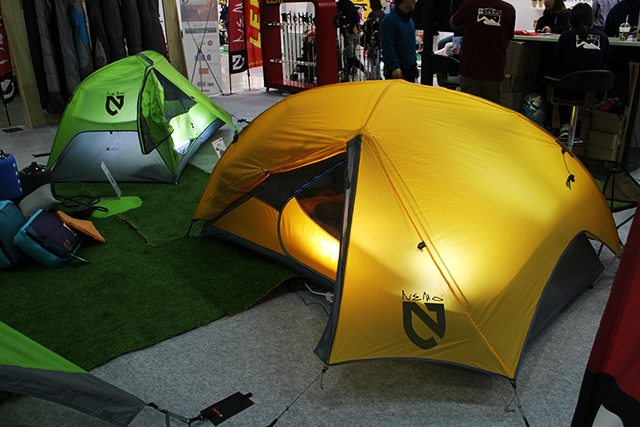 Do not think that you will lose something with this bargain as there is a lot to gain from this optimal tent. Nemo Blaze 2P is a top notch tent and you will not find such features in any other tent that is in a same category. Great quality and the affordable price are not the only benefits that you will get if you decide to purchase the tent.
Feel like you are in your own bed as you will have the highest level of comfort.  There is no need to your sleeping bag as this tent is made for hikers who do not want to lose their comfort. Comfortable tent is a certain way for you to have a good night's sleep after your hiking. This will make it possible for you to enjoy more as you will have more time for various hiking activities.
As mentioned earlier, it is a real bargain as the price is only around $400. Getting a regular tent will waste your money and time, so it is much better to have a product with features that are meant for every hiker and. Setting up your tent will be a delight and even the same camp stories will not sound that boring with Nemo Blaze 2P.
The Nemo Blaze backpacking tent is a competitive tent for two backpackers seeking a warm and comfortable 3 season tent. It comes equipped with all the features that are indispensable for outdoor hobbyists to have priceless excursions.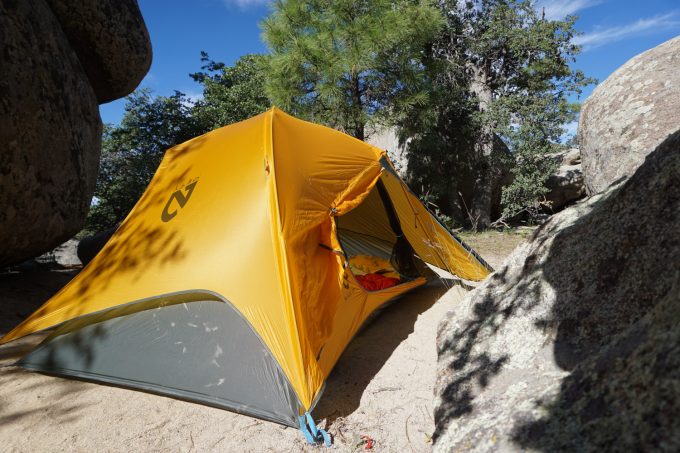 Notable with this tent are the high features we have mentioned above such as sleeping capacity, portability, and the design and durability. The tent is characterized by tear-resistance, waterproofness and durability. Having this great combo of features will certainly make your camping a marvel.
The interior space is ample and livable. There is more room to sleep on, with the essentials stored in the vestibules provided. The innovative pole configuration makes it easy to set up this tent in no time. There's no need to pitch it next to supporting poles because it is a freestanding backpackers tent.
PROS:
Waterproof design that will protect your gear from the downpour
Tear resistance with a thick nylon fabric material to extend the durability of the tent
Livable interior space with vestibules provided for extra storage so that you have an ample space with your partner
Attractive, elite yellow color, that will be visible at a distance in the wilderness
Easy to set up
It is affordable in its range
CONS:
It is relatively heavy when compared with the competitors and the similar models provided above
It is not suitable for all the seasons, unless you want to buy extras such as the sleeping bags and sleeping pads.
A tent is a necessary item for every hiker and camper. Choosing an all around tent is the best way to make sure that everything will go as planned. We have given you our suggestion to what makes a great tent. Mobility is definitely the biggest advantage when you are traversing a tough terrain. You might be willing to check the Nemo Blaze 2P so you can be sure that it is a tent that you need.