The DriDown Backcountry Bed 600 3-season women's sleeping bag is designed to transform your hiking experience for both you and your loved ones. If you were looking for a bag that you will have no trouble carrying around, then look no further.
Purchasing the wrong sleeping bag can give you sleepless nights and dull your overall hiking adventures. A stiff neck or muscles are the last thing you want the next morning, and this bag gives you more than comfort.
The sleek design is primarily meant for the women hikers, and it's not only durable, but it's also comfortable and water resistant. Having used sleeping bags that left you soaked or that tore right on your first day of hiking should tell you just how important these features are.
What's more? You do not have to spend money purchasing different sleeping bags for different seasons. This bag can be used for all the 3 seasons. Is that a bargain or what? Keep reading the review for more details on this amazing sleeping bag.
BUILD SPECIFICATIONS
PACKAGING
The sleeping bag comes in one regular size with a Boysenberry color that looks fantastic. On purchasing, you also get a comforter that you can use inside or outside the sleeping bag.
You can also consider purchasing a DriDown Pillow by Sierra Designs to transform your hiking experience. This pillow is sold separately from the sleeping bag and goes for around £39.98. With the pillow, you can have a comfortable place to put your head when sleeping and it fits perfectly in the sleeping bag.
DESIGN& DURABILITY
The Backcountry Bed by Sierra is made of Nylon and comes in a fantastic Boysenberry color. It weighs approximately 3.1 pounds and just has a regular size. The bed has dimensions of 3 by 58 by 68 inches and is ideal for both camping and hiking. Don't let the soft and light polyester material fool you into thinking that you will be freezing when you are out there. This sleeping bag is so warm and snugly that you will hardly notice the difference with your own bed.
The design is also every hiker's dream because it compresses very easily making it less bulky and therefore easy to carry around. And that's not all, the design also and provides insulation under your arms when you use the comforter outside the bag. It also makes it quite easy to get in and out as well as moving around at night. You don't feel trapped when you are trying to move around.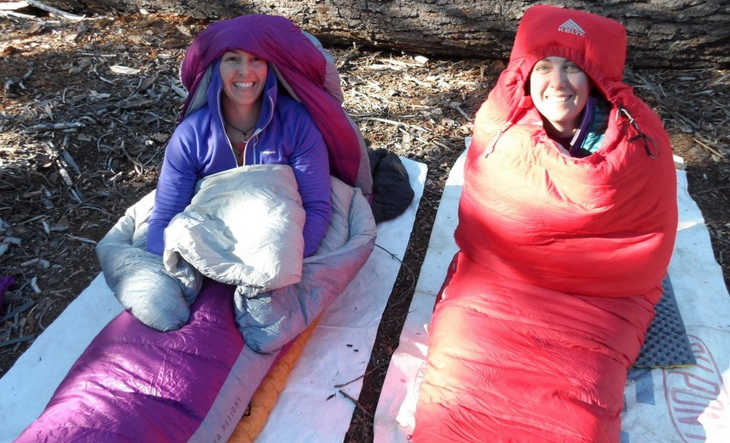 The bag is also highly durable. This is because of the use of nylon as the outer fabric. You can be assured of using it for a long time for hiking and camping without experiencing wear and tear that may force you to buy a new bag. Moreover, because of this synthetic material, the bag will perform better in wet conditions by being water resistant. You will not have to worry about getting soaked while sleeping in the rain.
TEMPERATURE RATING
The Backcountry Bed has a temperature rating of 25 degrees Fahrenheit. This only means that the lowest temperatures this bag can handle is 25 degrees and nothing short of that. When you are hiking during winter, you know that temperatures can fall much lower than that. If that's the case, you might reconsider taking this bag with you. Opt for a sleeping bag designed to handle very low temperatures to keep you warm at night.
However, this is just a standard rating. Since there is no universal temperature rating that you can pit this against, you are advised to follow your gut. If you think it's capable of handling lower temperatures, then you can use the bag even when it's freezing. Sometimes, it's said that it can't handle degrees as high as 30. See? The given rating may not be much to go by. You can always carry extra clothing for warmth in case the sleeping bag lets you down.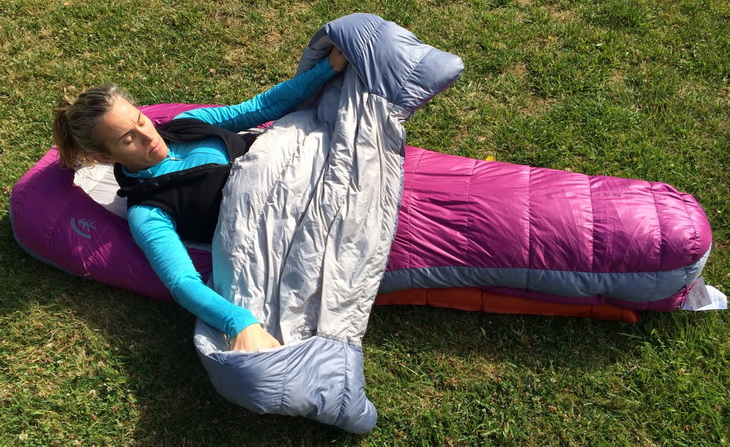 There are other factors that go to show that the temperature rate given is just but a guide. We all sleep differently. We use different amounts of clothing to sleep, and some may sleep outside the tent while others sleep inside. Also, how easily you feel cold might be different from which temperature levels make me feel cold.
So seeing as hikers are different, you should not rely on given ratings. Instead, you should just focus on trying out the sleeping bag for yourself and seeing how you do with the temperatures. Does the bag's rating go with what you finally experience or not?
WARMTH
The sleeping bag comes with integrated comforter wraps that will allow you to adjust the temperatures. Why is this important? Temperatures vary from place to place and therefore in the cold season, you can always turn the heat to the maximum for warmth, and when it's hot, you can adjust the temperatures to give you the cooling effect.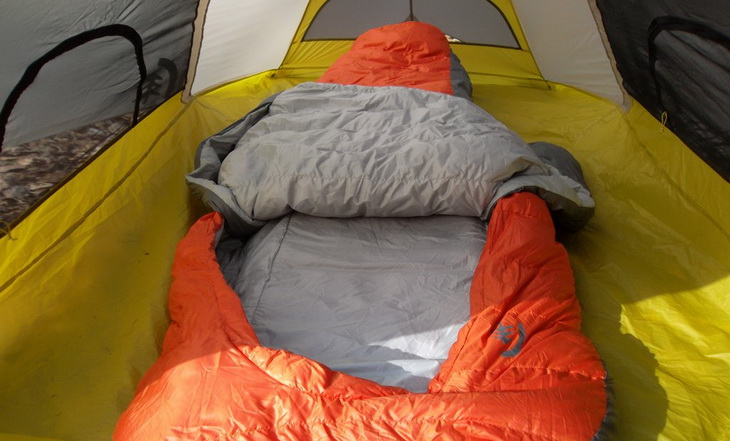 This is one of the super advantages of the Backcountry sleeping bag. If you have ever been in a situation where you could not handle the temperatures, whether too hot or too cold, then you know just how important a temperature control feature is. This bag is also made of synthetic materials that will still provide you with warmth even when wet. This feature makes it ideal to use during rainy seasons or on damp campsites.
INSULATION TYPE
The bag  is designed with insulated hand and arm pockets that will provide insulation under your arms. This feature comes in handy when the comforter is used outside of the sleeping bag.
Know how it gets cold at night when you are at the camping site, and only your hands seem to be frozen, which in turn makes it hard for you to sleep?? Well, with the Backcountry sleeping bag, that will be a thing of the past.
STORAGE
The women's Backcountry sleeping bag is made of lightweight material and therefore compresses easily, making it less bulky to carry as you trek along the trails.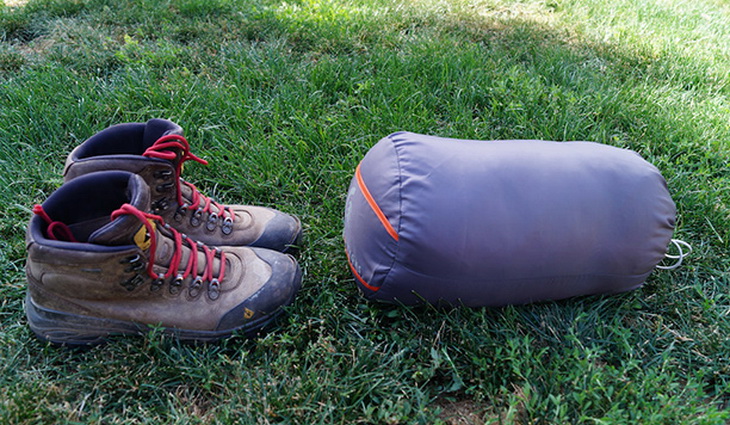 It also has an integrated sleeping pad that goes a long way in reducing the bag's interior volume. This makes it have the right fit to fit in your backpack when you're going for a hike.
VALUE FOR MONEY& GUARANTEE
Are you getting value for your money with this purchase? The bag goes for around $300, which may even include free shipping if you are from the listed locations.
There are no given guarantees pertaining to the purchase at this time. However, if you want to find out, you can always contact the manufacturers for more information. It is worth checking out for any offers and guarantees, relating to the sleeping bag in the future.
 UNIQUE FEATURES
Every good product has the features that set it apart from the rest of similar products out there. For the Backcountry Bed, there are a few unique features that are worth checking out.
Insulated hand pockets – For extra insulation under your arms
Versatile integrated comforter wraps– To adjust against varying temperatures
Sleeping pad sleeves– To secure your sleeping pad for a fully integrated bed
Catenary shaped opening -To seal out draft
3- Season sleeping bag – Can be used in any given season, regardless of the weather conditions.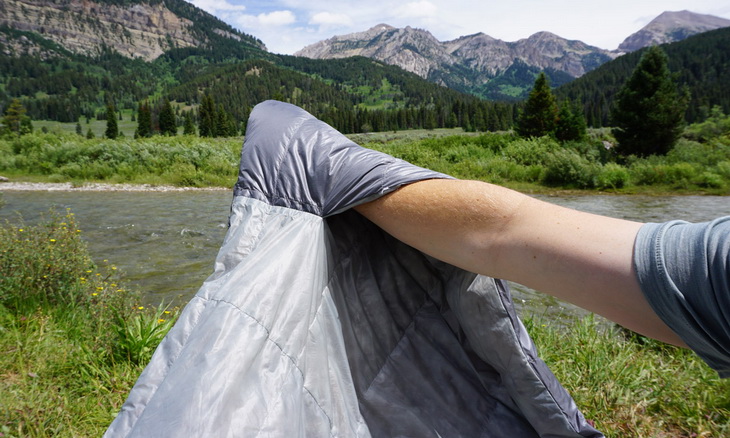 The women's sleeping bag is designed specifically for the women who love the outdoors and their go to activities, such as camping or hiking.
It's an ideal bag for anyone looking for a sleeping bag with premium features and does not worry about paying whatever it takes to get the product. It's perfect for use in all of the 3 seasons which makes it quite popular among backpackers.
Pros:
Can be used for hiking and camping all year round, regardless of the season
Comfortable to sleep in and move around without feeling trapped
Quality materials that ensure it remains durable for a long time
Breathable and water resistant
Sides can be adjusted to provide more room and give warmth during cold nights
Has comforter wraps that enable you to adjust temperatures
Easily compressed and light weight
Cons:
Costs relatively higher than other sleeping bags with almost similar features
Comes in only one size, limiting women with smaller or bigger sizes
Comes in only one color which may not be appealing to everyone
Not very ideal for winter; not low enough temperature rating